If you've been told that you need a dental crown then you may be feeling a little anxious or concerned. Here at Bondi Beach Dental, we regularly carry out the dental crown procedure utilising the latest technologies and techniques to deliver the best possible outcome. 
What are dental crowns?
Dental crowns are a type of dental restoration that completely enclose a tooth from top to bottom. Typically they are used to provide additional strength and structure to a tooth that has weakened. This may be because of tooth decay, a fracture, loss of a filling, or following root canal therapy. Not only do dental crowns restore the function of a natural tooth but they also improve the appearance of your smile. 
A dental crown is more commonly used for restorative purposes, but an increasing number of people choose crowns as a cosmetic dentistry procedure to enhance their smile. 
While traditional dental crowns require two dental visits and several weeks to complete, patients with a busy lifestyle can benefit from a CEREC crown that can be designed, created, and installed in a single visit. 
So now you understand the reason for needing a dental crown, let's take a look at what's involved. 
Dental Crown Procedure – What's Involved?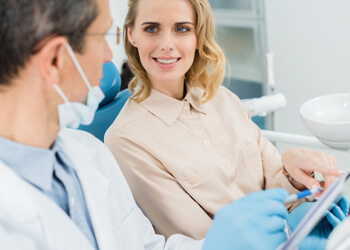 The first visit 
The first step of the dental crown procedure whether you've opted for a traditional crown or a CEREC crown is to prepare the tooth to accommodate the crown. Sometimes part of the tooth may need to be removed to make room for the crown.
In other instances, in areas where restoration has been damaged or is missing, the tooth may need to be built up to support the crown.
Once the tooth has been shaped, the next step is to take an impression so that the crown will fit the tooth as closely as possible. Impressions are usually made from biting into a dental putty but in the case of a CEREC crown, a digital impression is taken. 
With traditional dental crowns, our dentist may place a temporary crown over the tooth to protect it while you wait to receive your permanent crown.
However, with a CEREC crown, a milling machine uses the digital impression to make an exact-match, natural-looking restoration which is fitted that same day. So there is no need for a second visit.  
The second visit 
With traditional crowns, impressions of your teeth will either be sent to an in-house dental technician or a dental laboratory that makes dental crowns. This can take between two or three weeks. 
Once the crown is back from the laboratory, you will be called back for a second visit to install the permanent crown. Your temporary crown will be removed, and your new crown is fitted. There may be a need for a few small adjustments to ensure your bite is even. 
Your permanent crown will be polished and secured firmly in place with dental cement. 
What are the main advantages of dental crowns?
Dental crowns are shade-matched to your natural tooth colour to provide a seamless restoration. Not only are they natural-looking but when installed properly, they should provide long-lasting functionality. 
For whatever reason you are considering a dental crown, it's important to seek professional advice from a dentist. At Bondi Beach Dental we offer patients a choice of traditional or CEREC dental crown, along with expert advice.  
Why not schedule a consultation today to see what is the best dental crown procedure for you.