While the title 'how to get white teeth in just one day, may seem a little far-fetched, you may be surprised to know that it's both possible and effective. 
Of course, we're not talking about homemade teeth whitening remedies either. Instead, we're talking about professional in-chair teeth whitening treatments available from your dentist.
You don't even need a day; just one hour of your time is typically all it takes to whiten teeth effectively. Moreover, because it's carried out under the supervision of the dentist, it's safe. 
So how does professional teeth whitening work?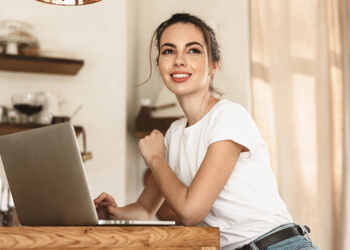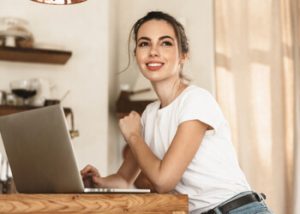 The procedure involves applying a tooth whitening (bleaching) gel containing somewhere between 25-40% hydrogen peroxide.
The whitening gel is rinsed off, and the process is repeated every twenty minutes. This is done so that the dentist can check progress.
Light is also used to activate the gel to aid penetration of the tooth enamel, breaking down and lifting any staining in the process. 
How to get white teeth – the results
On average, professional chair-side teeth whitening can whiten teeth up to 8 shades lighter for that brighter, whiter smile. 
The advantages of in-chair teeth whitening treatments are as follows:
The ability to whiten teeth fast –

Typically, patients see a noticeable difference in one visit.

Teeth whitening

carried out this way provides a convenient solution for many people.

In-chair teeth whitening is safe – Because a dentist carries out chair-side teeth whitening, the process is typically free from danger. They will always give you a thorough examination to ensure good oral health before commencing any form of

teeth whitening treatment.

 

Effectiveness of professional chair-side teeth whitening – Only dentists are permitted to use bleaching agents above 6% to whiten teeth in Australia. This makes the process incredibly efficient and quick. 
Proven brands – Most dentists will only use proven brands that come with years of clinical testing. Here at Bondi Beach Dental, for example, we use Philips Zoom, one of the most respected

teeth whitening treatments

on the market.
How to get white teeth – the aftercare
Even when you whiten teeth using professional methods, you should know that it isn't permanent. Over time, teeth will start to discolour. How fast that is, depends upon dietary intake and habits such as smoking. 
This is why most dentists also provide custom-take home kits designed to top up your whitening when you need it. Custom trays are filled with gel and worn at home either during the day or at night. The at-home process allows you to maintain whiter teeth quickly and efficiently.
If you would like to find out more about how to get white teeth in just one day or would like to discuss how to whiten teeth, come and talk to the team at Bondi Beach Dental. We love creating whiter, brighter smiles and have the skills and experience to transform yours.  
Are you ready to transform your smile? Call today on (02) 9159 6957 or book an appointment online.