Have you ever wanted to straighten your crooked teeth but worry about how you will look wearing braces? The good news is that modern dentistry provides many methods of teeth straightening with one of them being clear aligners. In this article, we're going to talk about how to straighten teeth using these discreet orthodontic devices. So, let's dive in and get started. 
What are orthodontic clear aligners?
Also known as invisible braces, aligners are worn over the teeth a bit like a mouthguard and are made from a transparent plastic which renders them virtually invisible – hence the name. They're an ideal treatment for anyone who feels self-conscious about wearing visible braces and doesn't want anyone to know that they are undergoing orthodontic treatment. 
What can aligners treat?
Generally speaking, aligners are more suited for minor to moderate teeth straightening and can be used to correct a number of orthodontic issues including: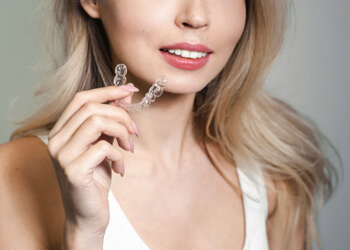 Crooked teeth

Crowded teeth

Overbites

Underbites

Open bites

Spaces in between the teeth
At Bondi Beach Dental, we provide Invisalign® and Smiletru but also print our own brand of aligners for patient convenience and affordability.
How Do Clear Aligners Work to Straighten Teeth?
Clear aligners work by using carefully measure force to shift teeth into their new positions, remodelling the bone to force the body to adapt. 
A 3D scan of the teeth is taken to create a virtual model of the mouth and teeth. Our dentists use this model to plan the movements necessary to guide crooked teeth into the correct position to achieve the straight smile that you long for. The relevant data is then sent to the lab that creates your customised aligners. 
Each set of aligners is designed to move the teeth in minuscule increments and is worn for around 14 days before being discarded and replaced with the next set in the series. Once the last set of aligners have been worn, your new smile will be revealed, and that phase of the treatment will be complete. 
After treatment is complete, It's crucial to wear the retainer issued by our dentists to prevent the teeth from moving back into their previous positions and undoing all the hard work. 
What are some of the advantages of clear aligners?
There are numerous advantages to aligners with the most obvious being their discreet appearance. Other benefits include:
They are removable for eating, drinking and cleaning your teeth

They are more comfortable than fixed braces since there are no wires or brackets to make your cheeks or lips sore

They give your confidence a boost because they are barely visible

They can work faster than traditional braces
So, now you know how to straighten teeth with aligners, the question is are they right for you? 
Provided you are committed to wearing your aligners for a minimum of 22 hours a day, then yes, they could be an ideal treatment for you. If your orthodontic issues are more complex, then you may be better wearing fixed braces as they exert more force than aligners and can treat even the most complicated of orthodontic problems. 
Why not book an appointment with the experienced dentists at Bondi Beach Dental to discuss your concerns and your smile goals and we can help you make the right choice for you. Call (02) 9159 6957 or book online.