It comes as no surprise to most people that getting dental work done on home soil does not come cheap. It's no wonder then that approximately 15,000 Australians seek refuge abroad for cheap dental treatment every year. 
Even cosmetic dental treatments like teeth whitening are seeing a huge rise in numbers with favoured destinations like Thailand being high on the agenda. After all, what could be better? Cheap cosmetic dental treatment and plenty of sun, sea, and sand to help recovery?
However, before you go rushing off to book a seat on the first available flight to Bangkok or Chang Mai, it's worth considering the fact that along with the sizeable price saving, there are a number of inherent risks that you wouldn't necessarily experience back home.
With this in mind, let's take a look at some of those risks…  
No grounds for recourse
Perhaps the best thing about getting teeth whitening at a dental clinic here in Australia is that if something goes wrong there are clear and concise follow-up procedures that you can take. Unsatisfied patients also have access to a complaints ombudsman and even law courts if the need arises.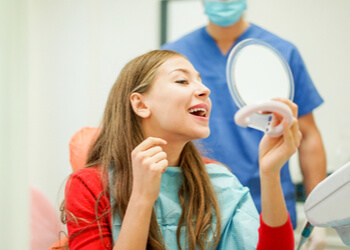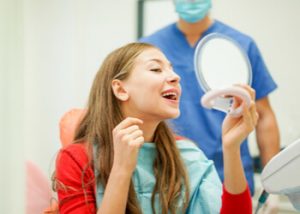 Not so, when you undergo teeth whitening in Thailand, or indeed any other favoured destination. Typically, once a patient has had treatment and left the building, that's it, they're on their own! Unfortunately, you won't be covered by medical insurance either so it could cause a real dilemma. And, before you say that "it's only a spot of teeth whitening, what could go wrong?" Australian dentists are seeing an influx of patients of late who have undergone failed dental treatments abroad including cosmetic laser teeth whitening.   
Top tip – If you are insistent on undergoing teeth whitening in Thailand, you should opt for dental hospitals or clinics that are recognised under the Thai Government's Quality Improvement Accreditation.      
Recovery
Certain teeth whitening systems can trigger teeth sensitivity in some people. This can be anything from the occasional mild twinge through to more severe tooth sensitivity in others. While it is easy to obtain the medications and get the rest you need back home, the same can't always be said when you visit countries like Thailand for teeth whitening treatment
Of course, it's great to savour the exotic sights, sounds and smells of a foreign country while on vacation –  particularly one as diverse as Thailand but it's a far less engaging experience when you are trying to recover from your teeth whitening ordeal. 
Different laws
Australia has very strict laws about who can apply professional teeth whitening systems – namely dentists. Unfortunately the same can't be said when you undergo teeth whitening treatment in Thailand. There are many back street boutiques in places like Bangkok that offer cheap cosmetic teeth whitening services to lure unsuspecting tourists in. The problem is that the person doing the treatment may not have an understanding of the anatomy of the mouth and may apply a teeth whitening system to a patient with cavities or sensitive gums. This is simply asking for trouble and can result in painful problems post-treatment.
Top tip – If you insist on getting your teeth whitened in Thailand consider using a registered dental hospital and avoid backstreet beauty parlours or boutiques.
If you do feel that getting teeth whitening in Thailand is just not worth the risk rest assured that the team at Bondi Beach Dental provide only clinically proven laser teeth whitening treatments in both Zoom and Pola that are safe and effective.
Book your smile consultation today. Call us now on (02) 9159 6957.
Note: Any surgical or invasive procedure carries risks. Before proceeding, you should seek a second opinion from an appropriately qualified health practitioner.