With the increasing popularity of cosmetic dental treatments like dental veneers on the rise, I daresay you know of someone who has undergone treatment. While there's no getting away from the fact that veneers can dramatically transform a smile in the right hands, getting veneers for teeth has pros and cons. In this article, we'll address the pros and cons of both composite and porcelain veneers so you have the information you need to make an informed decision. So, let's dive straight in. 
Firstly what's the difference between composite dental and porcelain veneers?
While composite dental veneers are made from a paste and applied to the front of the teeth, porcelain veneers are custom-fabricated, either in a dental lab or using an onsite milling process. Therefore when it comes to choosing the right veneers for your teeth, there are pros and cons to each. 
Application 
Composite dental veneers can be fitted in around 20 minutes and involve applying a composite paste-like material to the front surface of your teeth. This is colour-matched to blend in with your natural smile and then hardened to form a tooth-like protective barrier. 
Porcelain veneers, on the other hand, are typically applied over several sittings. During the first sitting, the dentist will remove a fine layer of tooth enamel (typically about half a millimetre) to enable the veneer to sit flush in your mouth. Then, impressions or moulds are taken and sent to the lab for fabrication. Finally, you may be fitted with temporary veneers to protect the teeth. Once your dental veneers are ready (usually several weeks later), you'll be called back for a second visit to remove any temporaries and fit your permanent dental veneers. 
Cost vs longevity
Naturally, when anyone is weighing up the pros and cons of getting veneers for teeth, the cost can play a big part. Typically, composite dental veneers cost 2-3 times less than porcelain veneers here in Australia, and while that may be seen as an advantage, it's only half the story. Like anything in life, you get what you pay for, and while composite dental veneers are considerably cheaper, they aren't designed to last as long as customised porcelain veneers.
On average, the lifespan of a porcelain dental veneer can fall somewhere between 15 and 20 years if cared for properly, whereas composites typically last less than half that time. There are many reasons for that, which are too many to get into in this article, but for now, know that porcelain veneers may cost more initially, but once fitted, they can and should last considerably longer. 
Permanent vs non-permanent dental veneers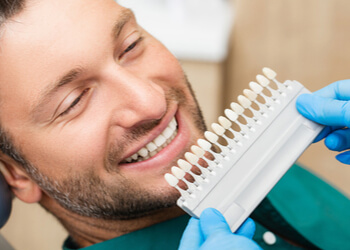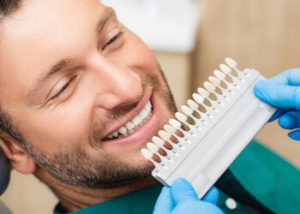 Another factor you should consider in the veneers for teeth pros and cons debate is that dental veneers made using composite resin is a reversible treatment.
By this, I mean that if you decide you no longer want them, they can easily be removed to reveal your natural teeth.
Alternatively, because porcelain veneers require the removal of a small amount of tooth enamel, once you undergo treatment, there is no going back. In other words, you will always need porcelain veneers to protect your teeth. 
Veneers for teeth – pros and cons – a recap
Composite dental veneers can be fitted in one sitting, are less invasive, and are considerably cheaper.
Porcelain veneers are more durable, longer-lasting, and are more resistant to staining.
So which type of dental veneers should you choose?
When weighing up the pros and cons of veneers for teeth, come and talk to the team at Bondi Beach Dental. We treat patients with honesty and integrity and will suggest the right treatment based on your needs and budget. Call today on (02) 9159 6957 or book a smile consultation online.

References
Dental Guide Australia – The Cost of Dental Veneers
https://www.dentalguideaustralia.com/dental-veneers-cost 
NCBI – Porcelain Laminate Veneers – Clinical Survey For Evaluation Of Failure
https://www.ncbi.nlm.nih.gov/pmc/articles/PMC4229681