Toothache is one of the most common dental complaints. The obvious solution to eradicate dental-related pain is to visit your emergency dentist for immediate treatment. However, it isn't always possible to see your dentist right away.  
The good news is that we have five proven and tested tips on toothache pain relief to help relieve tooth pain until you can get to your emergency dental clinic. 
5 Tips for Effective Toothache Pain Relief
Several at-home, temporary pain relief techniques may provide sufficient comfort until you can visit your emergency dentist. These include
Taking medication is one of the easiest ways to address tooth pain. If you have over-the-counter pain relievers such as aspirin or ibuprofen, take them as needed to reduce pain and inflammation. 
If you see signs of facial swelling due to tooth pain, a cold compress can help it settle down. You can use an ice bag or wrap some ice in a towel. Then, press this over the swelling. Do this for 20-minute periods and repeat every few hours.
Rinse with warm salt water
Saltwater is another toothache pain relief. It helps to clean your mouth, remove debris, and reduce inflammation. Stir a ½ teaspoon of salt into a glass of warm water. Then, thoroughly rinse your mouth with the solution.
As an antibacterial agent, when hydrogen peroxide is mixed with water, it helps to kill bacteria and relieves symptoms such as tooth pain and swelling. Make sure you use 3% hydrogen peroxide for maximum effect. Dilute this in water, and then swish it in your mouth.
Lastly, you can use clove oil, a natural antiseptic that targets inflammation to reduce swelling in the painful area. Thus, eliminating tooth pain. Just dab a small amount of clove oil on a cotton ball and apply where it hurts. Clove oil is available in most pharmacies and comes in handy in a dental emergency.
Dentist Treatments for Toothache
It's important to note that the suggestions listed above provide temporary toothache pain relief. For this reason, it's always best to visit the dentist at your earliest convenience so the most suitable treatment can be done.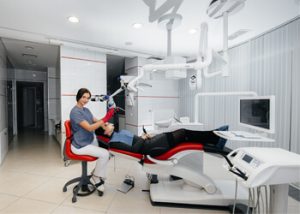 When you visit Bondi Beach Dental for a dental emergency such as toothache, we will properly assess your case. This allows our emergency dentist to make an accurate diagnosis and create a treatment plan to get you out of pain and solve your problem. 
Depending on the cause of your tooth pain, possible treatments may include:
Root canal treatment

Extractions
Antibiotic therapy may also be recommended before treatments commence in case infection is present.
Need an Emergency Dentist?
If you are experiencing tooth pain, Bondi Beach Dental can help. We have a highly experienced team to give you the priority toothache pain relief treatment needed to eradicate discomfort fast.
If you need emergency dental services or regular dental care, we can help. Contact Bondi Beach Dental at (02) 9159 6957, and our team will gladly assist.
Note: Any surgical or invasive procedure carries risks. Before proceeding, you should seek a second opinion from an appropriately qualified health practitioner.
References
MedicalNewsToday – How to treat a toothache at home
https://www.medicalnewstoday.com/articles/320315
PubMed – Anti-inflammatory effect of salt water and chlorhexidine 0.12% mouth rinse after periodontal surgery: a randomized prospective clinical study
https://pubmed.ncbi.nlm.nih.gov/33389135/
My Cleveland Clinic – Toothache
https://my.clevelandclinic.org/health/diseases/10957-toothache#:~:text=Stir%20a%20%C2%BD%20teaspoon%20of,parts%20water%20and%20rinse%20thoroughly.
Healthline – Can I Use Clove Oil to Ease My Toothache?
https://www.healthline.com/health/clove-oil-toothache